U-Glisse (anciennement École de Glisse des Universités de Grenoble) est la structure glisse du SUAPS UGA.
Its activities are reserved exclusively for students, from the Grenoble Alpes University of course but also from all over France and even for foreign students.
Elle compte plus de 4300 adhérents dont environs 75 coachs, plus de 35% d'étudiants étrangers de plus de 85 nationalités différentes.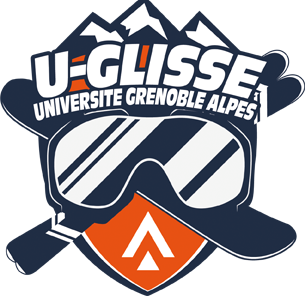 Objective of the structure
U-Glisse basée au cœur de la capitale des Alpes, a pour objectif de démocratiser la glisse dans le milieu étudiant, en proposant suite à une adhésion, des tarifs de skipass ultra-préférentiels et exclusifs dans quelques unes des meilleures stations de ski françaises. Mais la démocratisation c'est aussi la découverte and theencadrement. C'est pourquoi U-Glisse propose à tous ses adhérents des , gratuits* pour tous les niveaux, du débutant aux plus confirmés en ski et snowboard.
These courses are taught by a team of student and volunteer coaches specially trained for and by U-Glisse and supervised by the professors of the Université Grenoble Alpes. U-Glisse also offers transport at cost price and several reductions in its partners.
*Les cours gratuits sont réservés aux adhérents qui étudient à l'UGA, l'INPG, l'IEP, l'IAE, Polytech, l'ENSAG.